PREESCOLAR
En preescolar, el Programa de Inglés está dividido en tres secciones: Maternal, Kinder (1 y 2) y Pre-primaria (Kinder 3). Cada sección cuenta con textos especializados según el nivel de maduración de los niños.
Los Maternales I y II aprenden por medio de dibujos, juegos, canciones e historias en inglés.
En primero y segundo de kinder, se utilizan la serie de libros Fingerprints, que basan su contenido en dos áreas principales: Inglés como segundo idioma y matemáticas en inglés. Con este programa, los alumnos de Yits'atil aprenden a temprana edad el abecedario, los números (hasta el 20) y las figuras geométricas en inglés. En pre-primaria (Kinder 3), el programa de inglés permite a los niños desarrollar el conocimiento de la fonética en inglés, herramienta básica para decodificar letras, convirtiéndolas en sonidos que unidos forman palabras, para así poder leer en inglés.
Se utiliza la serie de Reading Street de Scott Foresman, que a través de los cuales los niños aprenden el vocabulario y las estructuras gramaticales básicas en inglés. También llevan un libro de matemáticas en Inglés a través del cual aprenden a contar hasta el cien, reconocer las figuras geométricas, a continuar series y patrones; así como a sumar y restar.
PRESCHOOL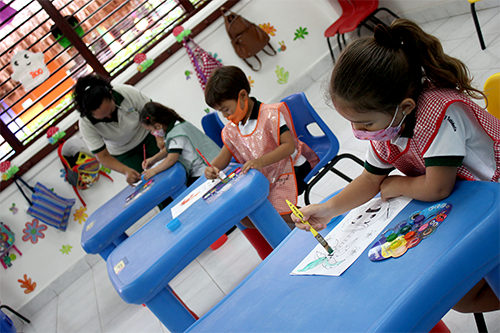 In Preschool, the English Program is divided into three sections: Maternal, Kinder (1 and 2) and Pre-primary (Kinder 3). Each section has specialized texts according to the group level.
In Maternal I and II, they will learn by means of drawings, games, songs and stories in English.
In  Kinder I and 2, the Fingerprints book series bases its content in two main areas: English as a second language and  Mathematics in English. With this program, the students of Yits'atil learn at an early age the alphabet, numbers (up to 20) and geometric figures in English. In pre-primary (Kinder 3), the English program allows children to develop the knowledge of phonetics in English, a basic tool to decode letters, converting them into sounds that together form words, in order to read in English.
The Reading Street series by Scott Foresman is used. Children learn the vocabulary and basic grammatical structures in English. The curriculum also includes a math book in English which students will learn to count to one hundred, recognize geometric figures, continue series and patterns; as well as to add and subtract.